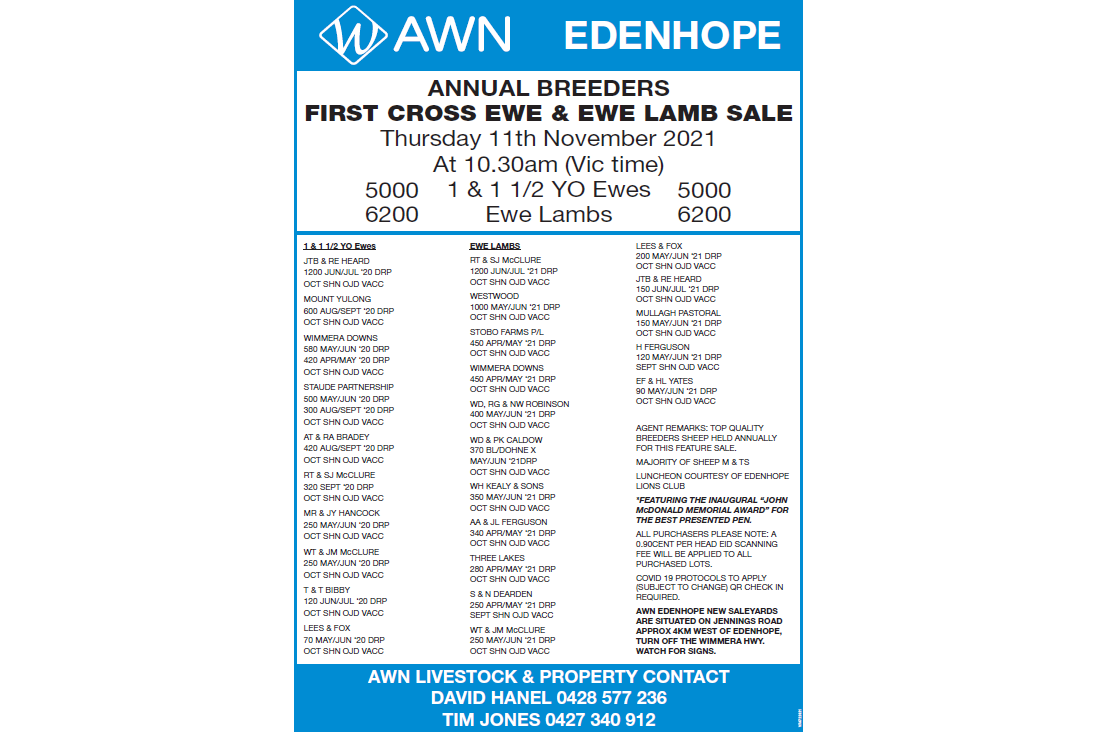 AWN EDENHOPE
ANNUAL BREEDERS
FIRST CROSS EWE & EWE LAMB SALE
Thursday 11th November 2021
At 10.30am (Vic time)5000 1 & 1 1/2 YO Ewes
6200 Ewe Lambs
1 & 1 1/2 YO Ewes
JTB & RE HEARD
1200 JUN/JUL '20 DRP
OCT SHN OJD VACC
MOUNT YULONG
600 AUG/SEPT '20 DRP
OCT SHN OJD VACC
WIMMERA DOWNS
580 MAY/JUN '20 DRP
420 APR/MAY '20 DRP
OCT SHN OJD VACC
STAUDE PARTNERSHIP
500 MAY/JUN '20 DRP
300 AUG/SEPT '20 DRP
OCT SHN OJD VACC
AT & RA BRADEY
420 AUG/SEPT '20 DRP
OCT SHN OJD VACC
RT & SJ McCLURE
320 SEPT '20 DRP
OCT SHN OJD VACC
MR & JY HANCOCK
250 MAY/JUN '20 DRP
OCT SHN OJD VACC
WT & JM McCLURE
250 MAY/JUN '20 DRP
OCT SHN OJD VACC
T & T BIBBY
120 JUN/JUL '20 DRP
OCT SHN OJD VACC
LEES & FOX
70 MAY/JUN '20 DRP
OCT SHN OJD VACC
EWE LAMBS
LEES & FOX
200 MAY/JUN '21 DRP
RT & SJ McCLURE
OCT SHN OJD VACC
1200 JUN/JUL '21 DRP
JTB & RE HEARD
OCT SHN OJD VACC
150 JUN/JUL '21 DRP
WESTWOOD
OCT SHN OJD VACC
1000 MAY/JUN '21 DRP
MULLAGH PASTORAL
OCT SHN OJD VACC
150 MAY/JUN '21 DRP
STOBO FARMS P/L
OCT SHN OJD VACC
450 APR/MAY '21 DRP
H FERGUSON
OCT SHN OJD VACC
120 MAY/JUN '21 DRP
SEPT SHN OJD VACC
WIMMERA DOWNS
450 APR/MAY '21 DRP
EF & HL YATES
OCT SHN OJD VACC
90 MAY/JUN '21 DRP
OCT SHN OJD VACC
WD, RG & NW ROBINSON
400 MAY/JUN '21 DRP
OCT SHN OJD VACC
WD & PK CALDOW
370 BL/DOHNE X
MAY/JUN '21DRP
OCT SHN OJD VACC
WH KEALY & SONS
350 MAY/JUN '21 DRP
OCT SHN OJD VACC
AA & JL FERGUSON
340 APR/MAY '21 DRP
OCT SHN OJD VACC
THREE LAKES
280 APR/MAY '21 DRP
OCT SHN OJD VACC
S & N DEARDEN
250 APR/MAY '21 DRP
SEPT SHN OJD VACC
WT & JM McCLURE
250 MAY/JUN '21 DRP
OCT SHN OJD VACC
AGENT REMARKS: TOP QUALITY
BREEDERS SHEEP HELD ANNUALLY
FOR THIS FEATURE SALE.
MAJORITY OF SHEEP M & TS
LUNCHEON COURTESY OF EDENHOPE
LIONS CLUB
*FEATURING THE INAUGURAL "JOHN
McDONALD MEMORIAL AWARD" FOR
THE BEST PRESENTED PEN.
ALL PURCHASERS PLEASE NOTE: A
0.90CENT PER HEAD EID SCANNING
FEE WILL BE APPLIED TO ALL
PURCHASED LOTS.
COVID 19 PROTOCOLS TO APPLY
(SUBJECT TO CHANGE) QR CHECK IN
REQUIRED.
AWN EDENHOPE NEW SALEYARDS
ARE SITUATED ON JENNINGS ROAD
APPROX 4KM WEST OF EDENHOPE,
TURN OFF THE WIMMERA HWY.
WATCH FOR SIGNS.
AWN LIVESTOCK & PROPERTY CONTACT
DAVID HANEL 0428 577 236
TIM JONES 0427 340 912
JENNINGS ROAD
EDENHOPE
VIC
, Australia