#_EXTRAEVENTCANCELLED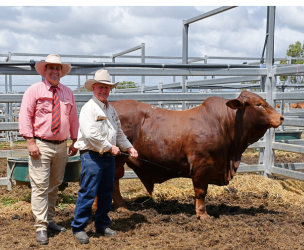 Prepared for a Future not a Sale.
The Cap Droughtmaster Bull Sale will be held at CQLX Gracemere on Thursday, 21st September at 10am.
Offering 80 Quality Bulls comprising of Registered and Selected Herd bulls from John Atkinson's "Glenavon Stud" and Duncan & Karen Geddes "CMC Stud".  The bulls come with a powerful reputation for going out and performing under a range of climatic conditions across Australia.  Both studs have an enviable record in Commercial and Carcase Competitions and have sired numerous prize winners for their clients over many years.  Bulls are paddock reared under commercial conditions and prepared for a maximum of 100 days on a light silage & hay ration.  With many bulls today being over-prepared for a lot of sales both Glenavon & CMC are determined to present bulls that are prepared for a future not a sale. If you are looking for 800kg+ 2 year old pampered bulls you won't find them here.
All Bulls come with current weight and carcase scans, semen and morphology results and are WA Eligible.
https://www.capdroughtmastersale.com/
CQLX Gracemere
Gracemere

, Australia