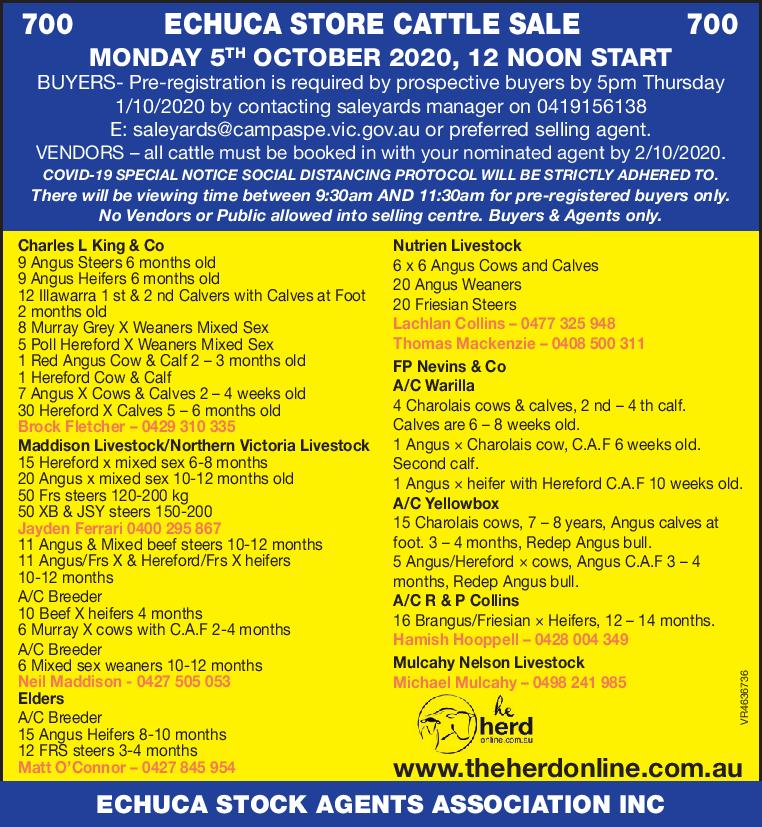 700 ECHUCA STORE CATTLE SALE 700
MONDAY 5TH OCTOBER 2020, 12 NOON START
ECHUCA STOCK AGENTS ASSOCIATION INC
BUYERS- Pre-registration is required by prospective buyers by 5pm Thursday
1/10/2020 by contacting saleyards manager on 0419156138
E: saleyards@campaspe.vic.gov.au or preferred selling agent.
VENDORS – all cattle must be booked in with your nominated agent by 2/10/2020.
COVID-19 SPECIAL NOTICE SOCIAL DISTANCING PROTOCOL WILL BE STRICTLY ADHERED TO.
There will be viewing time between 9:30am AND 11:30am for pre-registered buyers only.
No Vendors or Public allowed into selling centre. Buyers & Agents only.
Charles L King & Co
9 Angus Steers 6 months old
9 Angus Heifers 6 months old
12 Illawarra 1 st & 2 nd Calvers with Calves at Foot
2 months old
8 Murray Grey X Weaners Mixed Sex
5 Poll Hereford X Weaners Mixed Sex
1 Red Angus Cow & Calf 2 – 3 months old
1 Hereford Cow & Calf
7 Angus X Cows & Calves 2 – 4 weeks old
30 Hereford X Calves 5 – 6 months old
Brock Fletcher – 0429 310 335
Maddison Livestock/Northern Victoria Livestock
15 Hereford x mixed sex 6-8 months
20 Angus x mixed sex 10-12 months old
50 Frs steers 120-200 kg
50 XB & JSY steers 150-200
Jayden Ferrari 0400 295 867
11 Angus & Mixed beef steers 10-12 months
11 Angus/Frs X & Hereford/Frs X heifers
10-12 months
A/C Breeder
10 Beef X heifers 4 months
6 Murray X cows with C.A.F 2-4 months
A/C Breeder
6 Mixed sex weaners 10-12 months
Neil Maddison – 0427 505 053
Elders
A/C Breeder
15 Angus Heifers 8-10 months
12 FRS steers 3-4 months
Matt O'Connor – 0427 845 954
Nutrien Livestock
6 x 6 Angus Cows and Calves
20 Angus Weaners
20 Friesian Steers
Lachlan Collins – 0477 325 948
Thomas Mackenzie – 0408 500 311
FP Nevins & Co
A/C Warilla
4 Charolais cows & calves, 2 nd – 4 th calf.
Calves are 6 – 8 weeks old.
1 Angus × Charolais cow, C.A.F 6 weeks old.
Second calf.
1 Angus × heifer with Hereford C.A.F 10 weeks old.
A/C Yellowbox
15 Charolais cows, 7 – 8 years, Angus calves at
foot. 3 – 4 months, Redep Angus bull.
5 Angus/Hereford × cows, Angus C.A.F 3 – 4
months, Redep Angus bull.
A/C R & P Collins
16 Brangus/Friesian × Heifers, 12 – 14 months.
Hamish Hooppell – 0428 004 349
Mulcahy Nelson Livestock
Michael Mulcahy – 0498 241 985
McKenzie Rd
Echuca
VIC
3564, Australia