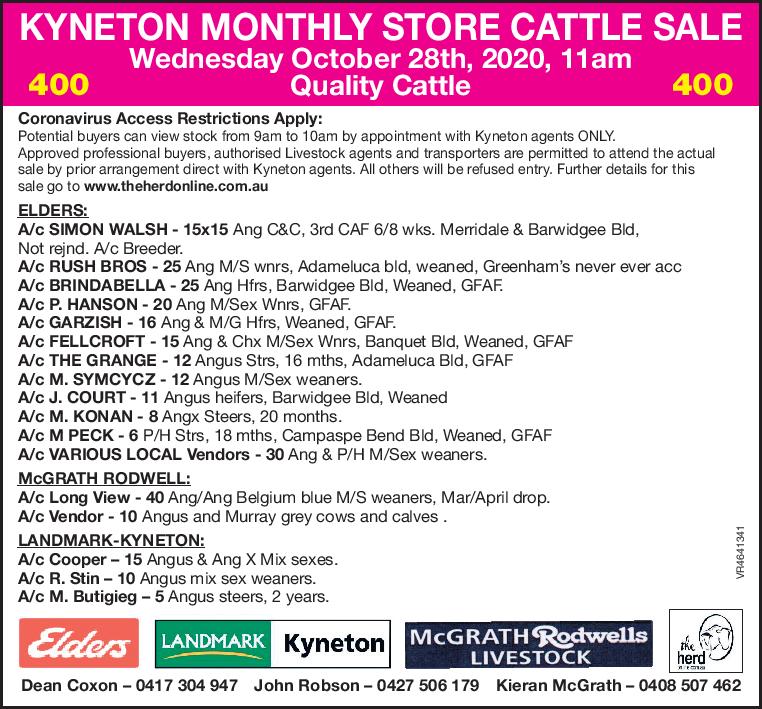 KYNETON MONTHLY STORE CATTLE SALE
Wednesday October 28th, 2020, 11am
400 Quality Cattle 400
Coronavirus Access Restrictions Apply:
Potential buyers can view stock from 9am to 10am by appointment with Kyneton agents ONLY.
Approved professional buyers, authorised Livestock agents and transporters are permitted to attend the actual
sale by prior arrangement direct with Kyneton agents. All others will be refused entry. Further details for this
sale go to www.theherdonline.com.au
ELDERS:
A/c SIMON WALSH – 15×15 Ang C&C, 3rd CAF 6/8 wks. Merridale & Barwidgee Bld,
Not rejnd. A/c Breeder.
A/c RUSH BROS – 25 Ang M/S wnrs, Adameluca bld, weaned, Greenham's never ever acc
A/c BRINDABELLA – 25 Ang Hfrs, Barwidgee Bld, Weaned, GFAF.
A/c P. HANSON – 20 Ang M/Sex Wnrs, GFAF.
A/c GARZISH – 16 Ang & M/G Hfrs, Weaned, GFAF.
A/c FELLCROFT – 15 Ang & Chx M/Sex Wnrs, Banquet Bld, Weaned, GFAF
A/c THE GRANGE – 12 Angus Strs, 16 mths, Adameluca Bld, GFAF
A/c M. SYMCYCZ – 12 Angus M/Sex weaners.
A/c J. COURT – 11 Angus heifers, Barwidgee Bld, Weaned
A/c M. KONAN – 8 Angx Steers, 20 months.
A/c M PECK – 6 P/H Strs, 18 mths, Campaspe Bend Bld, Weaned, GFAF
A/c VARIOUS LOCAL Vendors – 30 Ang & P/H M/Sex weaners.
McGRATH RODWELL:
A/c Long View – 40 Ang/Ang Belgium blue M/S weaners, Mar/April drop.
A/c Vendor – 10 Angus and Murray grey cows and calves .
LANDMARK-KYNETON:
A/c Cooper – 15 Angus & Ang X Mix sexes.
A/c R. Stin – 10 Angus mix sex weaners.
A/c M. Butigieg – 5 Angus steers, 2 years.
Elders: Dean Coxon – 0417 304 947
Landmark Kyneton: John Robson – 0427 506 179
McGrath Rodwells Livestock: Kieran McGrath – 0408 507 462
Saleyards Road
Kyneton
VIC
3444, Australia