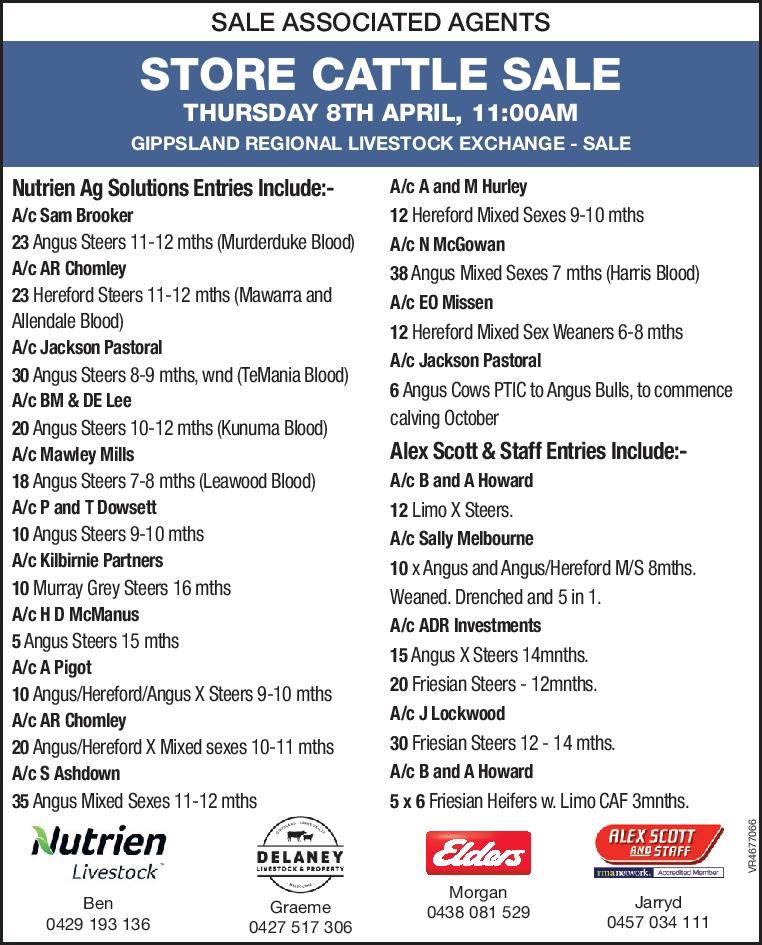 STORE CATTLE SALE
THURSDAY 8TH APRIL, 11:00AM
GIPPSLAND REGIONAL LIVESTOCK EXCHANGE – SALE
Nutrien Ag Solutions Entries Include:-
A/c Sam Brooker
23 Angus Steers 11-12 mths (Murderduke Blood)
A/c AR Chomley
23 Hereford Steers 11-12 mths (Mawarra and
Allendale Blood)
A/c Jackson Pastoral
30 Angus Steers 8-9 mths, wnd (TeMania Blood)
A/c BM & DE Lee
20 Angus Steers 10-12 mths (Kunuma Blood)
A/c Mawley Mills
18 Angus Steers 7-8 mths (Leawood Blood)
A/c P and T Dowsett
10 Angus Steers 9-10 mths
A/c Kilbirnie Partners
10 Murray Grey Steers 16 mths
A/c H D McManus
5 Angus Steers 15 mths
A/c A Pigot
10 Angus/Hereford/Angus X Steers 9-10 mths
A/c AR Chomley
20 Angus/Hereford X Mixed sexes 10-11 mths
A/c S Ashdown
35 Angus Mixed Sexes 11-12 mths
A/c A and M Hurley
12 Hereford Mixed Sexes 9-10 mths
A/c N McGowan
38 Angus Mixed Sexes 7 mths (Harris Blood)
A/c EO Missen
12 Hereford Mixed Sex Weaners 6-8 mths
A/c Jackson Pastoral
6 Angus Cows PTIC to Angus Bulls, to commence
calving October
Alex Scott & Staff Entries Include:-
A/c B and A Howard
12 Limo X Steers.
A/c Sally Melbourne
10 x Angus and Angus/Hereford M/S 8mths.
Weaned. Drenched and 5 in 1.
A/c ADR Investments
15 Angus X Steers 14mnths.
20 Friesian Steers – 12mnths.
A/c J Lockwood
30 Friesian Steers 12 – 14 mths.
A/c B and A Howard
5 x 6 Friesian Heifers w. Limo CAF 3mnths.
SALE ASSOCIATED AGENTS
Graeme
0427 517 306
Morgan
0438 081 529
Jarryd
0457 034 111
Ben
0429 193 136
Saleyards Road
Sale
VIC
3850, Australia