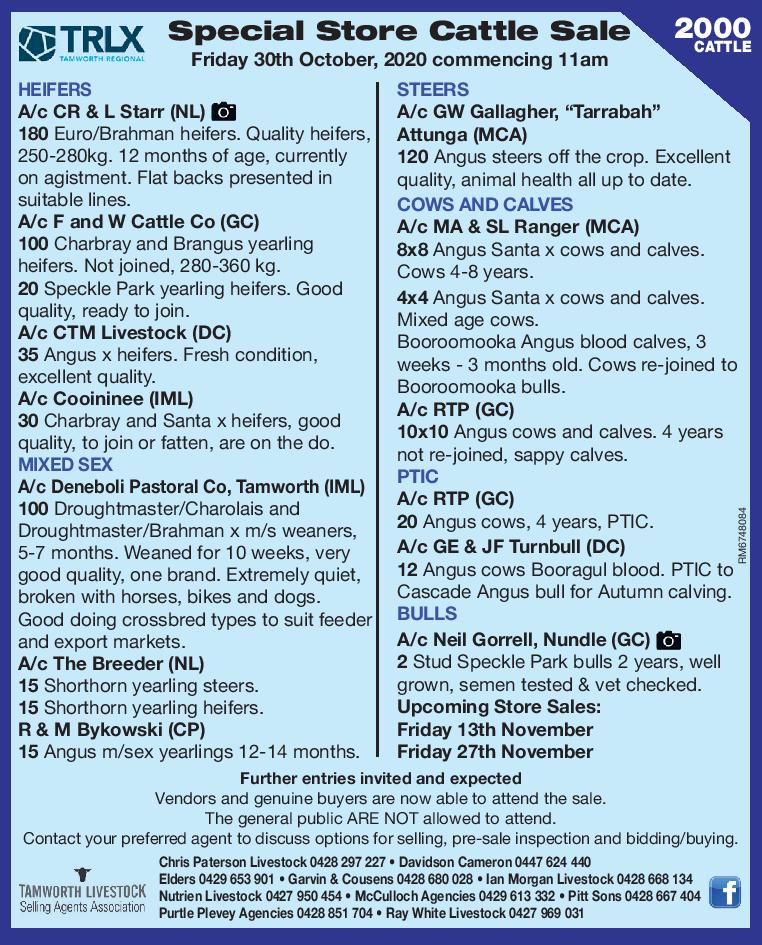 HEIFERS
A/c CR & L Starr (NL)
180 Euro/Brahman heifers. Quality heifers,
250-280kg. 12 months of age, currently
on agistment. Flat backs presented in
suitable lines.
A/c F and W Cattle Co (GC)
100 Charbray and Brangus yearling
heifers. Not joined, 280-360 kg.
20 Speckle Park yearling heifers. Good
quality, ready to join.
A/c CTM Livestock (DC)
35 Angus x heifers. Fresh condition,
excellent quality.
A/c Cooininee (IML)
30 Charbray and Santa x heifers, good
quality, to join or fatten, are on the do.
MIXED SEX
A/c Deneboli Pastoral Co, Tamworth (IML)
100 Droughtmaster/Charolais and
Droughtmaster/Brahman x m/s weaners,
5-7 months. Weaned for 10 weeks, very
good quality, one brand. Extremely quiet,
broken with horses, bikes and dogs.
Good doing crossbred types to suit feeder
and export markets.
A/c The Breeder (NL)
15 Shorthorn yearling steers.
15 Shorthorn yearling heifers.
R & M Bykowski (CP)
15 Angus m/sex yearlings 12-14 months.
STEERS
A/c GW Gallagher, "Tarrabah"
Attunga (MCA)
120 Angus steers off the crop. Excellent
quality, animal health all up to date.
A/c Bregot Grazing (DC)
39 Angus/Angus x steers, 9-12 months.
Excellent quality
COWS AND CALVES
A/c MA & SL Ranger (MCA)
8×8 Angus Santa x cows and calves.
Cows 4-8 years.
4×4 Angus Santa x cows and calves.
Mixed age cows.
Booroomooka Angus blood calves, 3
weeks – 3 months old. Cows re-joined to
Booroomooka bulls.
A/c RTP (GC)
10×10 Angus cows and calves. 4 years
not re-joined, sappy calves.
PTIC
A/c Bregot Grazing (DC)40 Crossbred and Angus x cows, 3-6 yrs, PTIC to Santa and Angus bulls.
A/c RTP (GC)
20 Angus cows, 4 years, PTIC.
A/c GE & JF Turnbull (DC)
12 Angus cows Booragul blood. PTIC to
Cascade Angus bull for Autumn calving.
A/c D & A Pitt (DC)
6 Angus x heifers PTIC to low
birthweight Angus bull. EU Accredited
BULLS
A/c Neil Gorrell, Nundle (GC)
2 Stud Speckle Park bulls 2 years, well
grown, semen tested & vet checked.
Michelle Mawhinney
0408918697
michelletssa@outlook.com
Phoenix St
Westdale
NSW
2340, Australia